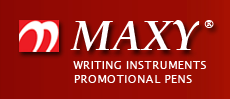 Home



Manufacture & Exporters of Writing Instruments & Promotional Pens from India

MAXY by Motiram Harkrishinlal Products offers a full line of fine quality Writing Instruments including Ball Point Pens, Gel Pens, Roller Pens, Fountain Pens, Mechanical Pencils and Gift Sets.

Established in year 1960 by Late Mr. Motiram Khilnani, Motiram Harkrishinlal Products is Manufacturers and Exporters of plastic ball pens, metal Pens and mechanical pencils. We own the well-known brand of MAXY pens in writing instruments market of India.

We are equipped with high precision machinery for standard and special purpose operation and have facility for multi-color and pad printing for Promotional Pens. Our pens are best suitable for Promotional purposes.
Home | Products | About us | Contact us | Disclaimer | Site Map

Privacy Policy
© 2010 Motiram Harkrishinlal Products
All rights reserved

Motiram Harkrishinlal Products
Writing Instruments
Manufacturer | Exporter | Importer
D-1, Bajson Industrial Estate,
Andheri (East), Mumbai-400099
INDIA

Whatsapp: 70458-11977
Tel: 91-22-28326397, 28370264
contact@maxypen.com

Designed by Atithi Infotech